Today's Featured Artist Is
Keith Pearson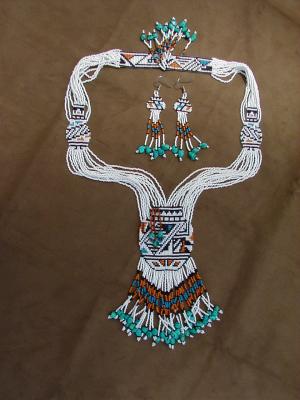 Specialties:
Beadwork

I grew up in Carlsbad, New Mexico. I recently moved to Henderson, NC after 24 years in Mt. Vernon, IL. I am married to wife Julie. We have four children and four grandchildren.

I am a graduate of New Mexico State University with a degree in Chemical Engineering. I spent forty-one years with Continental Tire before retiring in 2009. I was corporate manager of environmental programs for North and South America when I retired.

I have always had an interest in the arts. I have experience in oil painting and stained glass.

I enjoy showing my beadwork at Native American Art Shows. Since we have recently relocated to North Carolina, I am not aware of what art shows are in this area. If you know of any, please send me an e-mail so I can start participating in shows in this area. I am open to anything within a four hours drive.

Having grown up in the Southwest, and being a member of the Choctaw Nation of Oklahoma, I have an appreciation for Native American design. My father was a "rockhound" and taught me an appreciation for mineral gemstones. On all of my Native American theme splitloom pieces I try to use mineral gemstone beads in the necklace fringe to compliment the design.

I have recently been doing more "back stitch" or bead embroidery using the mineral gemstones. I usually let the stone guide me as to the design of the piece.

I recently completed a special order of beaded rosette medallions featuring turtle designs for "The Indian Drum" located on the Arnold Dock on Mackinac Island, Michigan. If you are on the island, stop in and let them know you saw my plug on the Native American Artworks website.




Website:
Click to visit the artist's website